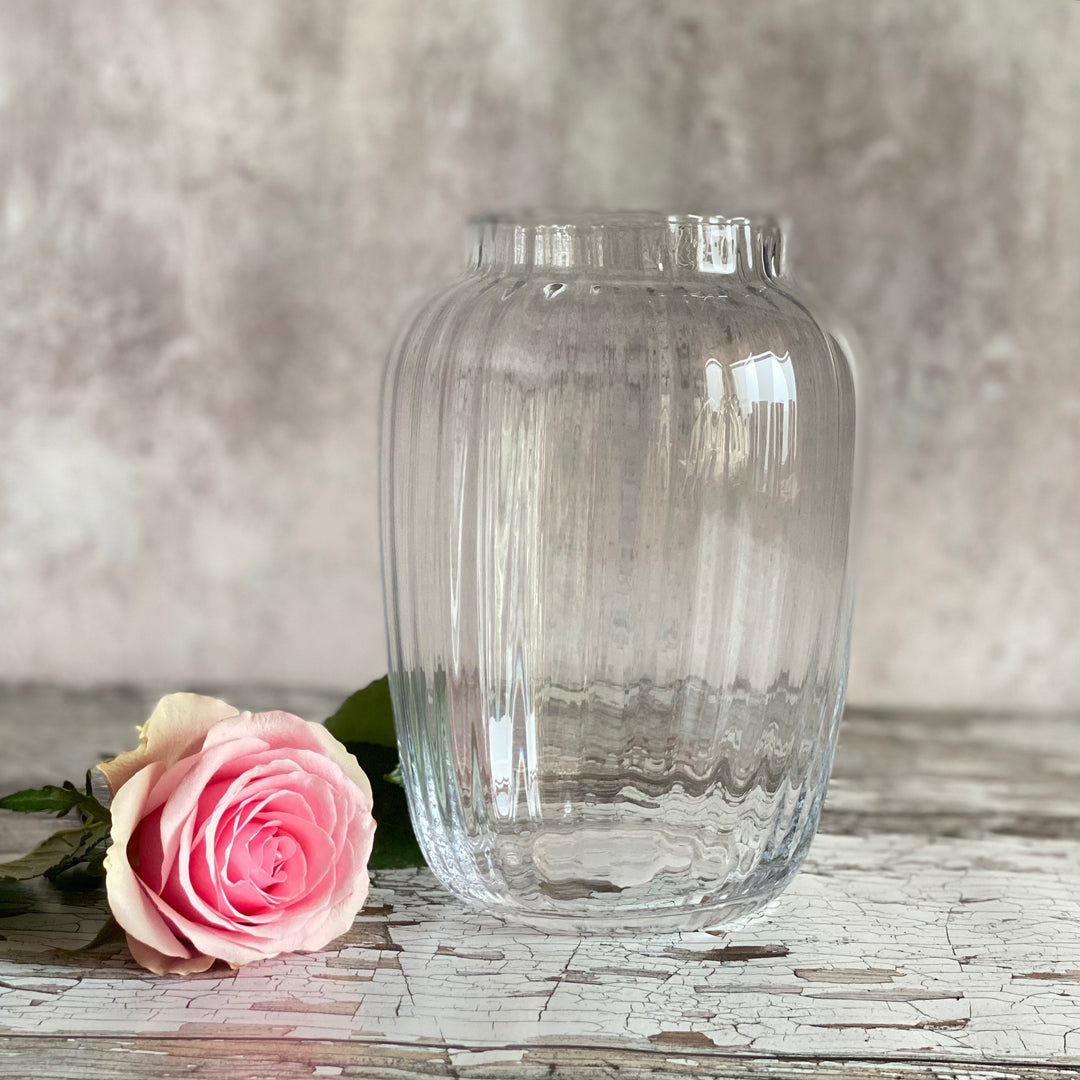 Vintage style ribbed vase
Regular price
£15.00
/
Tax included.
---
Local delivery to Wigan area
Vintage style ribbed vase 20cm tall and 14cm wide
Suitable for a small - medium  bouquet of flowers 
Local deliveries take place between 8:30am and 5:30pm Monday - Saturday.
Next day flower delivery on all products for orders placed before 10pm.
Choose a delivery day for your order during checkout.
For full details about our delivery areas and prices see our local flower delivery page.
Hand Tied Bouquets
Our hand tied bouquets are delivered in water and supplied with premium flower food, they can be left in the box and toped up with water regularly. However to extend the flower life we would suggest carefully unwrapping the flowers and placing them into a clean vase of water with the food supplied. Keep the water level toped up regularly and change the water every 2-3 days to prevent bacteria build up. They are popular gifts and suitable for all gift occasions.
Arrangements in Containers & Baskets
Our arrangements and baskets are made in Oasis "Max Life" Foam, the design can be placed on a table or flat surface and should be toped up with water regularly, taking care to protect any polished or delicate surfaces. they are especially suitable for people who don't want to arrange or undo any flowers themselves. We strongly recommend placing any flower arrangement on a suitable mat to prevent water damage to any furniture or delicate surface.
Flowers in Vases
Our vases are filled with flowers that are tied or arranged directly into the vase, top up regularly with clean water and the food provided, suitable for all occasions.
Bouquets and Bunches
Our bouquets and bunches arrive gift wrapped in cellophane or paper but are not in water. They will need to be unwrapped and arranged by the recipient into a suitable vase or container. They are suitable for all occasions but especially for people who love to arrange their own flowers.
Full care instructions will be delivered with your chosen gift. See our flower care page.